Our approach is made simple, easy & stress free
Free home Consultation
Once contacted, we will arrange a free home consultation. Together we discuss your requirements, taste, preferred layout & design ideas. We record dimensions, lighting, themes and what it is you want from your kitchen/bedroom etc. We offer advice on all aspects of the project, including the practical and stylish, to achieve the best possible solution for you.
Realistic perspective drawings are prepared and presented.
We invite you to our showroom (which is currently being totally renovated) to view samples of our doors, colours, worktops, accessories, handles and our workmanship. We discuss the costs of various options and prepare you with an official quote, free of charge of course!
Production
Once the design and costs are agreed, a deposit is required to begin production. If any building alterations are required, work commences either by using our unique service or by your own tradesmen. Meanwhile, your custom made product is manufactured in our workshop. We work in harmony with everyone involved to achieve the desired finished product.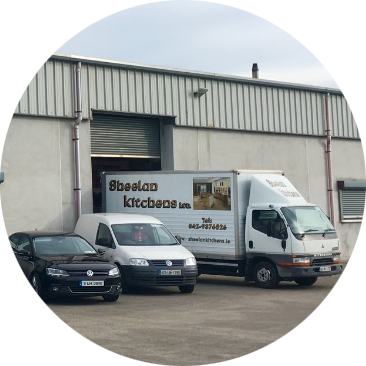 Ready for delivery
Before loading your new kitchen, we give you an opportunity to view your product assembled, laid out in position, in our workshop.
Delivery & Fitting
This is carried out as per date agreed. Project is fitted by our professionals who will care for your home as their own. Their cleanliness and attention to detail will exceed your expectations. Depending on the size of your project, fitting generally takes:
1-2 days for kitchen (Allow longer for granite tops)
2-3 contract kitchens fitted per day
1-2 wardrobes/sliding robes fitted per day